Does your child get too much screen time or want to play indoors all the time? Or, does your child like playing outdoors, but you have a hard time finding ways to engage your child with nature?
I think we've all been there, one way or another, either from being a busy mama, having super active kids or through weather constraints. But, we can get our kids outside to play and learn no matter the weather or our own energy levels.
But let's talk about screens (because heaven knows we haven't heard it enough!).
As our kids are inundated with screens (in all their forms), seeing green trees, smelling musty dirt and hearing the birds in the trees can re-awaken their little minds.
I can literally see my son's pupils change after he's been watching a TV show then plays in the backyard. And, I see less tantrums! He is more engaged and actually sleeps better at night with just a small amount of time spent playing in the grass.
Don't get me wrong, we can't spend all day outside. We all have chores, cooking, cleaning, working (for some of us) and a ton of other things to do every day.
Personally, allowing my child to play on a tablet isn't all bad since I can honestly say he has learned a lot from his educational apps. I will also admit I allow way too much screen time as I juggle life with a toddler and a baby. Before having kids, allowing screen time was something I said I would never do…
Our kids will grow up in a world full of technology some of us never had growing up. Preparing them for this new world is completely understandable.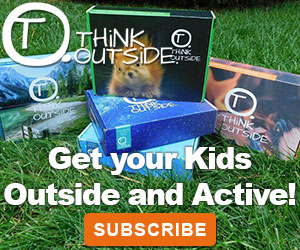 But, it all has to be balanced with the real world. I've read that new behaviors are becoming prevalent in schools like kids randomly walking into walls (lack of spacial awareness), underdeveloped social skills (even for those with lots of friends), and sensory disorders are on the rise.
There have been many studies on the benefits of getting your child outside. Many suggest that as little as 30-60 minutes outside can greatly benefit the welfare of your child now and as they grow.
Even if you don't give or allow your child to interact with screens and technology, the, at times, unpredictability of nature and the biological response to the sensory change to the outdoors is life changing
This study showed that kids that spend time in nature are more likely to protect and cherish the outdoors as adults.
If you are looking for more in-depth information about children in nature, I strongly suggest you read Last Child in the Woods: Saving Our Children From Nature-Deficit Disorder by Richard Louv. It's an insightful and powerful book that will inspire you to get your kids outside:
""Nature is often overlooked as a healing balm for the emotional hardships in a child's life." – Richard Louv
My son loves the outdoors. If we are ever by water, he runs straight for it without any thought for his safety (to my chagrin and fear).
The hardest thing for me is getting him to actually stop to learn and discover nature. He's 3-years-old and is like a pingpong ball going from one thing to the next.
I made activity sheets to use while we are outside, calling them scavenger hunts or treasure hunts to make it more engaging for my toddler.
I print out the pages and place them on a clipboard, then grab a small bowl to place items in (though I discourage picking leaves and flowers so he respects living things). Then, we go looking for everything on the pages!
If you want a copy of my Nature Exploration pages (and get access to all my freebies in the Hive Library), just scroll to the bottom of this article.
Here are the pages I use (the exact pages in the activity you can print out yourself):
Items In Nature
This is a real scavenger hunt! We live in the Pacific NW and these items are almost always easy to find anywhere we go. This page focuses on physical items your child can pick up or easily spot outdoors.
Colors In Nature
My son loves to point out all the colors we see (outside and inside!). This sheet includes 9 colors for your child to find. Make sure you prompt your child to look up!
Textures In Nature
To get your child used to the different physical textures in nature, look for items within your child's reach. My son used to struggle with certain textures, but using this discovery sheet has helped him be curious rather than anxious.
Things In Nature
A lot like the items in nature, this page has your child look for more objects though these aren't things you can place in a bowl!
Senses In Nature
My son loves this sheet! Not only does this sheet include some unusual ways to learn about nature, it engages your child on a whole new level with all the senses! Encourage your child to close his/her eyes and use their nose instead!
I also did a guest post about another nature learning activity, Nature Discovery Mud Pie!
Even if these pages aren't a good fit for you and your kids, search Pinterest for other nature activities you can do with your kids. Remember, just 30-60 minutes a day!